We want you to feel at home at Dragonfly House in Spain. Our friendly site map will help you find your way around and orientate you before you arrive.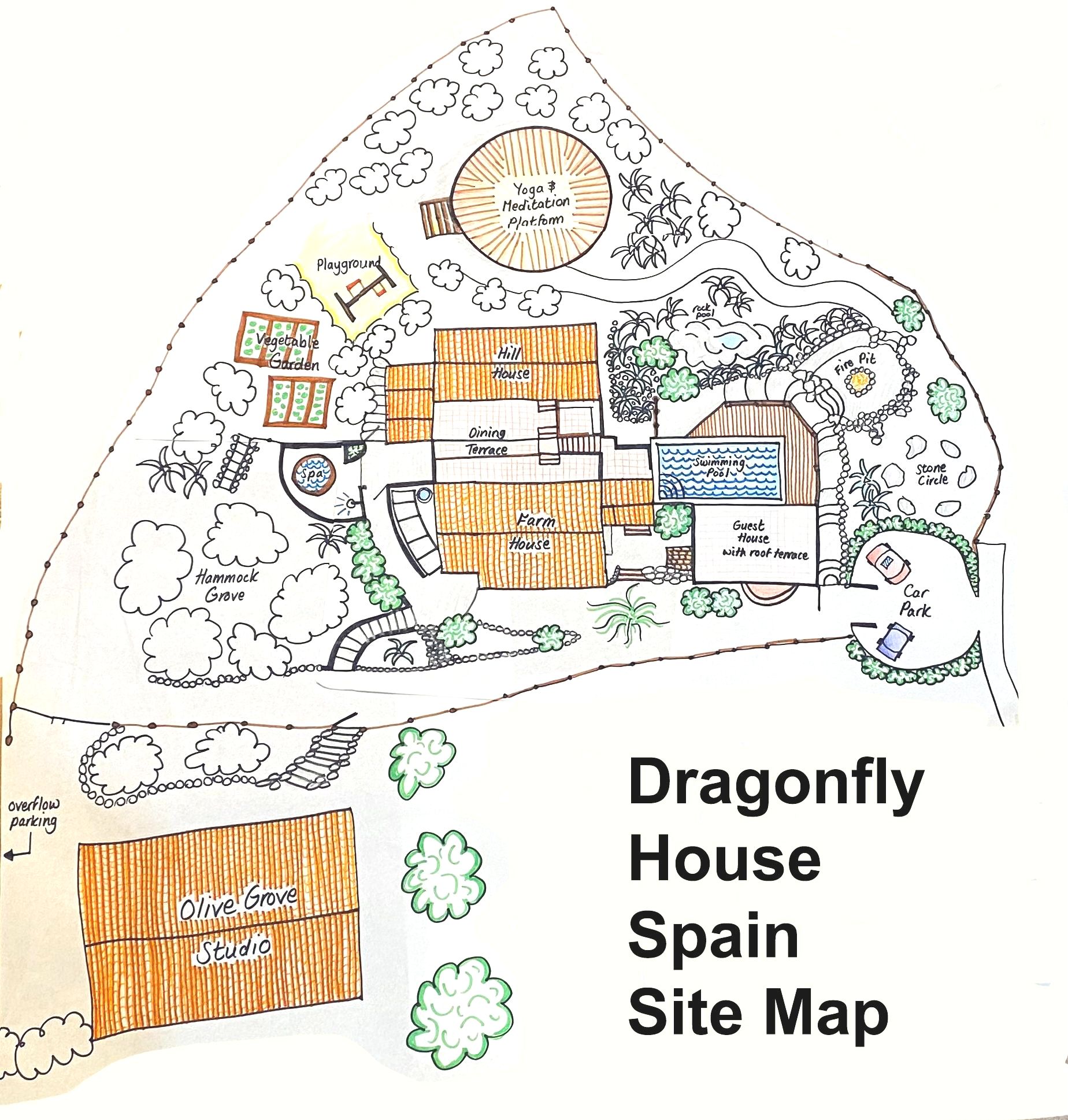 If you require further details about floorplans and room flexibility please contact us. Note that furniture layouts shown are indicative as most rooms can be arranged as either twin or double depending on your preference.
The farmhouse has the largest kitchen and a library that can also be converted into an indoor dining room when the weather requires we retire from the main terrace. The twin aspect fireplace is a delight in the cooler months. You can enjoy outdoor seating at the front or back of the farmhouse, catching sunrise or sunset as you please. The Alhambra bedroom with its beautifully tiled ensuite shower room is shown in blue and the Olive Tree bedroom with its walk in shower and double sink bathroom is shown here in orange.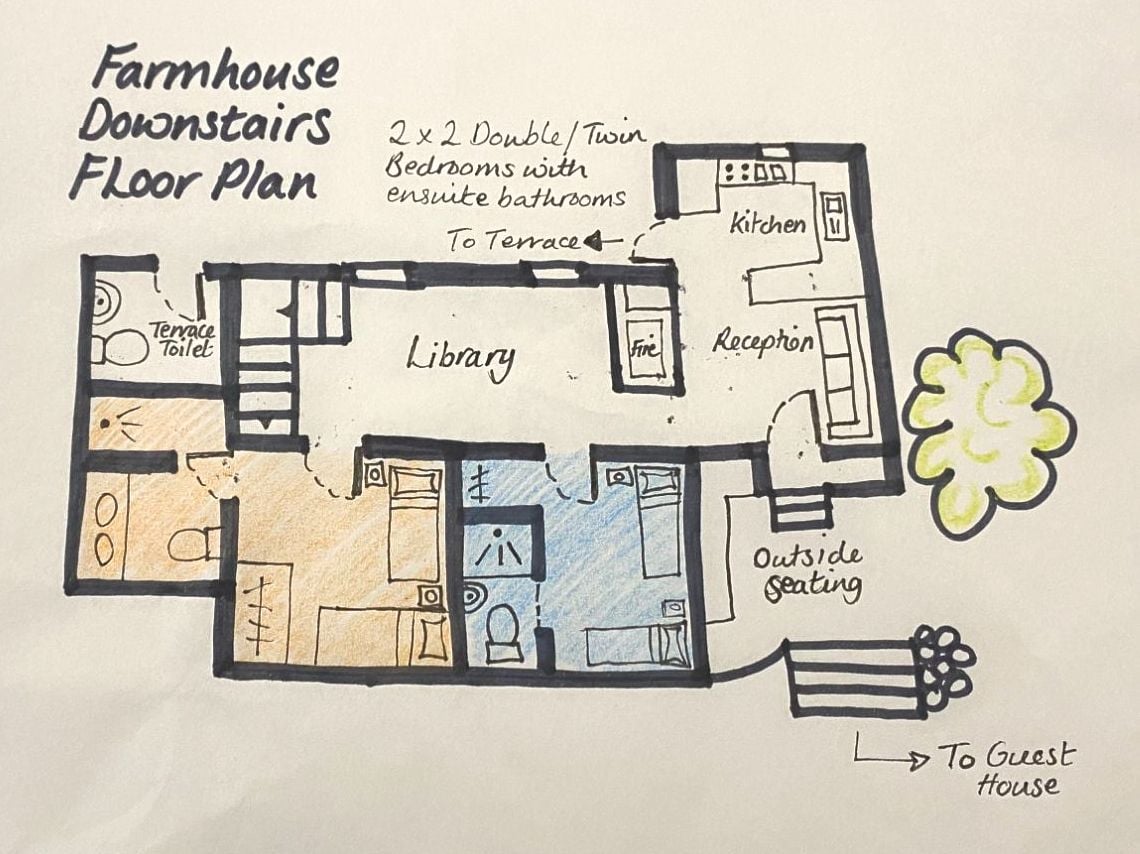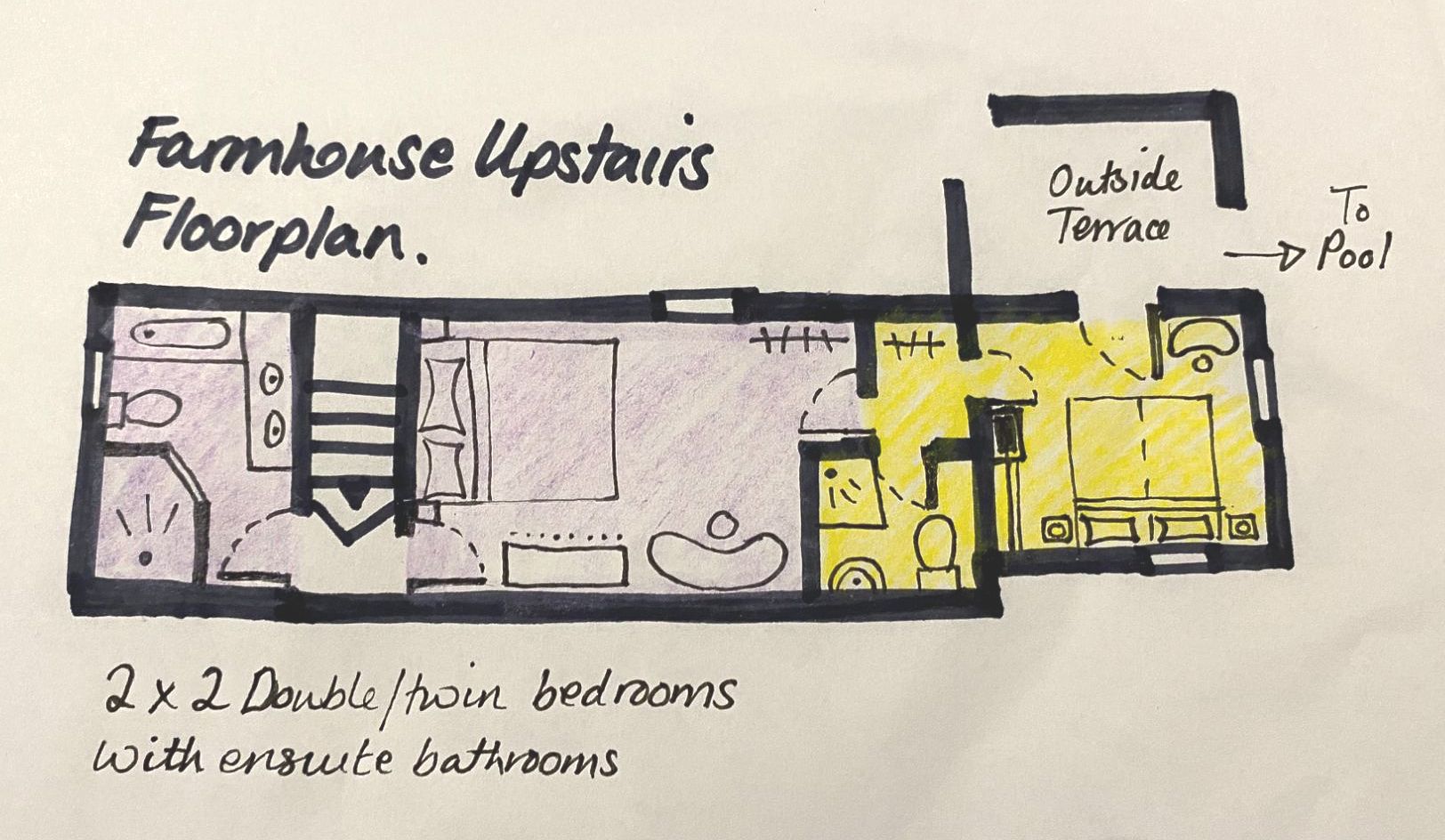 Upstairs in the farmhouse is home to the Angels Rest bedroom (highlighted in purple), with its fabulous Rococo Style furniture and luxury family bathroom with walk in double shower, double sinks and full sized bath. The Almond Blossom bedroom (highlighted in yellow) is also a treat with its triple aspect windows and direct access onto the pool terrace. The almond tree outside the window is exquist when in full bloom.
Hosts the final three bedrooms of the farmhouse building. Shown in yellow on the plan is Fig Tree bedroom, with its separate shower room and outside terrace this room is perfect for those that prefer to be a little away from the rest of the group. The Mountain View room is shown in green on the right of this floorplan, with its own ensuite bathroom this room adjoins the central terrace and has views across the pool to the mountain. The Swallows Nest bedroom is shown in purple on this plan, this spacios room had its own ensuite bathroom it adjoins the terrace so great for those who like to be in the centre of things.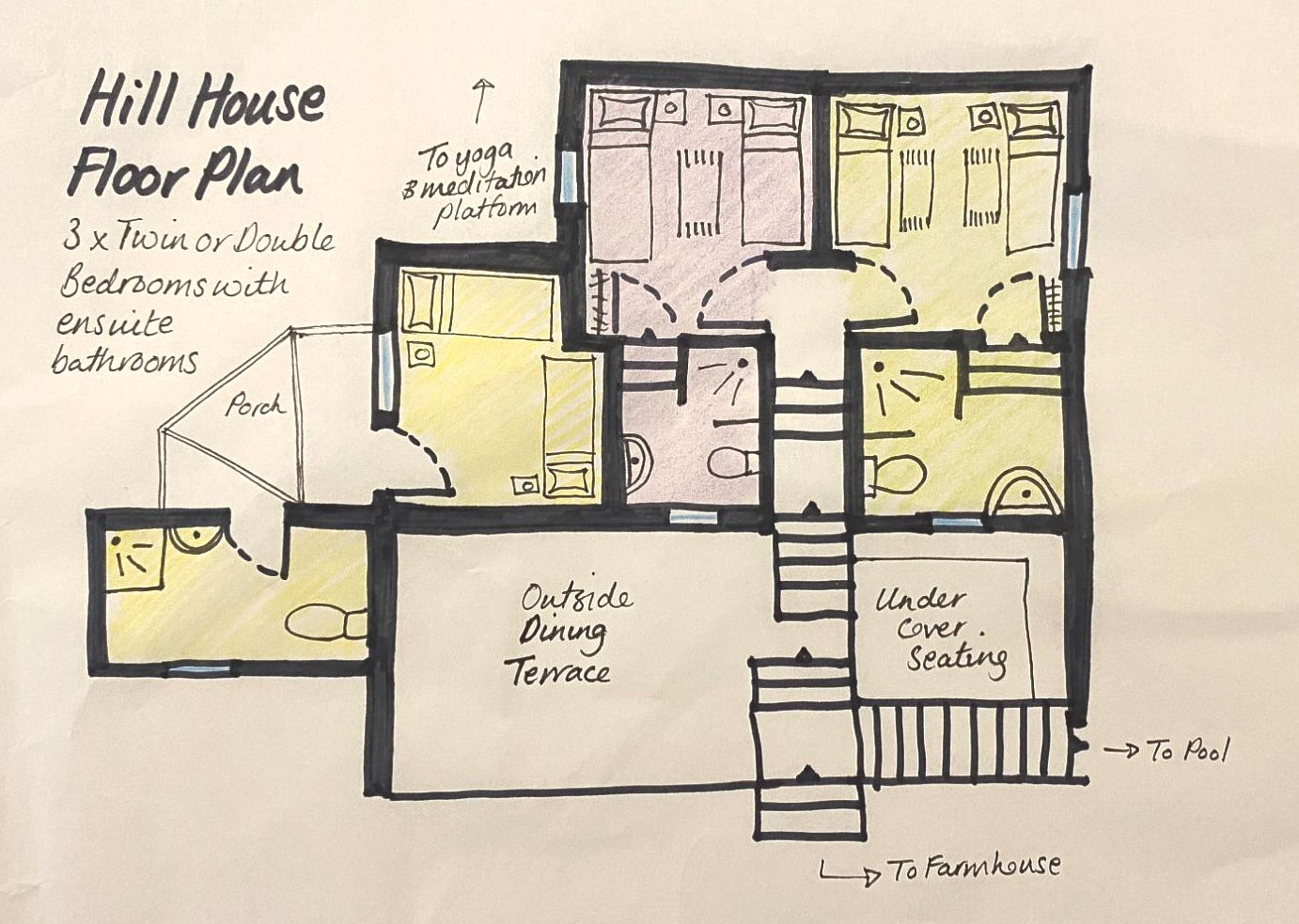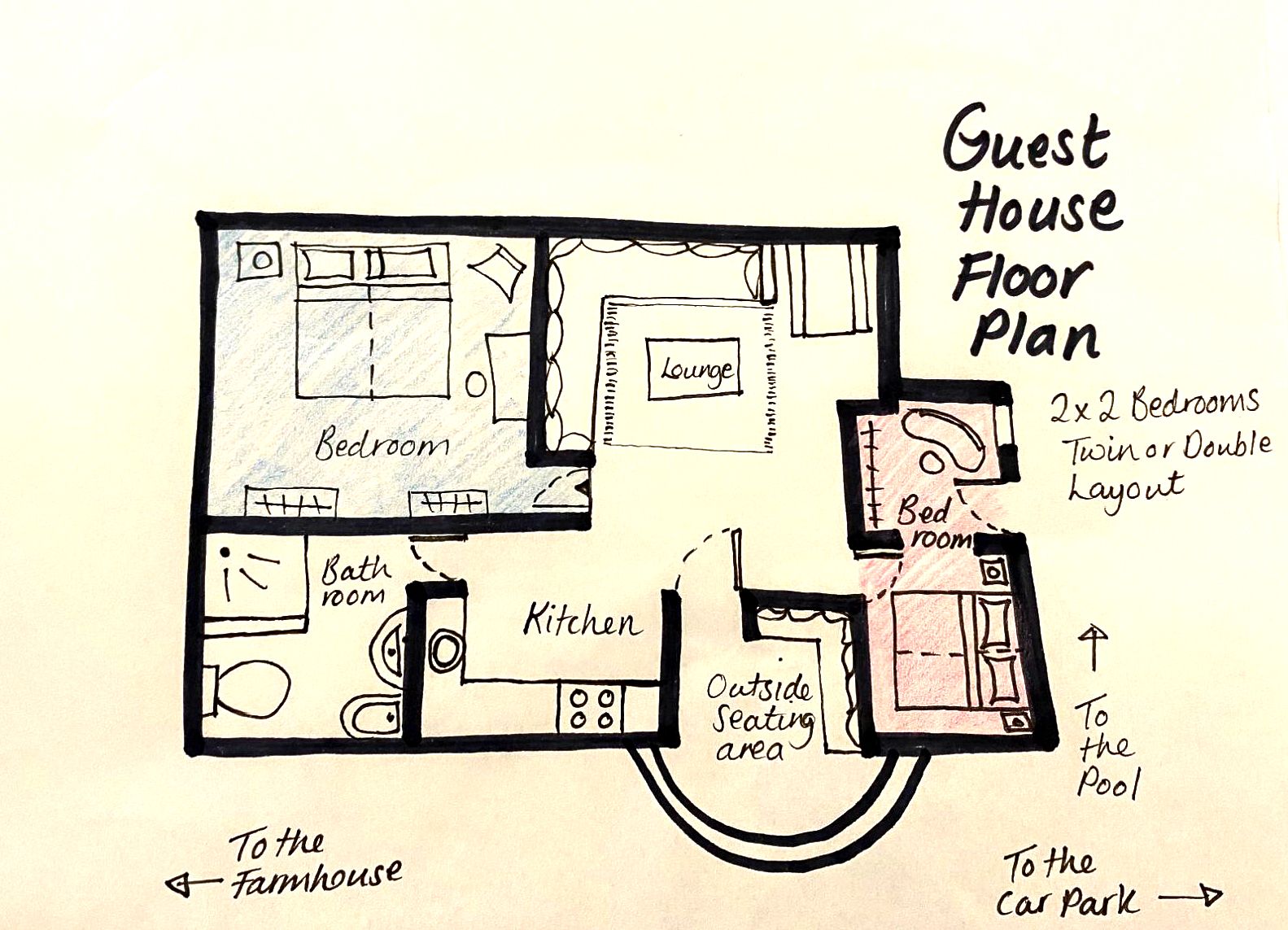 The Guest House is entirely separate from the farmhouse and hill house. It has its own lounge kitchen and bathroom. Enjoy both indoor and outdoor dining and use of a shared morrocan style bathroom. Both bedrooms are perfect for two people sharing. The Dragonfly bedroom is show in blue on the plan, it is a large room that can be arranged as a double or twin room with its own dressing table and ample hanging space. The Butterfly bedroom is shown in pink. Again it can be arranged as two seperated single rooms or as a double bedroom with adjoining dressing room complete with ornate dressing table and ample hanging space.
Olive Grove Studio Floor Plan
Our sacred and utterly inspiring 90 square metre studio has floor-to-ceiling triple aspect views across the olive groves towards the picturesque mountains beyond. Pefect for those days when you have had your fill of the sunshine, or it is a little windy and cooler; the studio can be warmed or cooled and feels spacious, accomodating 24 yoga mats with ease. There is a powerful crystal grid underneath the hand-laid wooden floor that has a little bounce and with a curtain you can partition the space to provide a beautiful massage room with amazing views of the mountain.